Richard R. Blain & Associates, LLC is a full-service consulting firm committed to providing services that not only meet your organization's needs but exceed them. Our experience-based approach is tailored to each client's particular needs, circumstances and organizational culture.
RRBA's team of professionals brings clients their combined knowledge and extensive experience to assist with: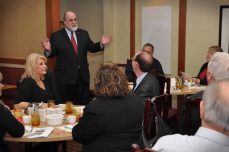 Assessing, implementing, refining or expanding ongoing development or advancement programs
Directing and facilitating strategic planning for organizations
Assisting with preparing for and conducting capital campaigns
Reviewing and enhancing marketing and student recruitment programs
Rick Blain, CFRE, Principal of the firm, brings more than thirty years of experience as an institutional staff member and consultant. His associates are seasoned professionals with diverse backgrounds and extensive experience. And Rick's desire is to "be your consultant" not to simply supervise consultants as does the executive staff of some firms.
Contact us today to explore the possibilities!
CONTACT US TODAY TO DISCUSS THE POSSIBILITIES
Your organization is committed to reaching its goals and we're committed to helping you!